Pets are generally offered at $10.00 to $15.00 each
Breeding at $15.00 to $20.00 each
Show quality at $20.00 to $30.00 each
Specialty/rare at $30.00 to $45.00 each
If you want a particular variety, please email me to get an animal reserved. Many animals are reserved before they make it to this sale page.
Currently Available:
We have only one broken color American available, with full pedigree:
One TSW boar. Mismarked (only a small amount of red on him, mostly black and white). About 6 months old. $15. Full American Pedigree.
First TSW Boar Head Shot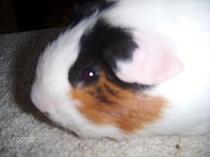 $15.00
TSW Boar Top
TSW Boar tummy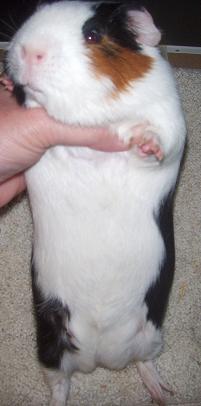 Retirees

None available at this time.
Definitions:
Pet Quality: This means that the animal has disqualifications or severe faults that make it inappropriate for a breeding program, but it would make a perfectly nice pet.
Breeding Quality: This means that the animal may have faults or disqualifications (such as mis-marks) that would prevent the animal from showing well (or at all), but the faults or disqualifications wouldn't necessarily prevent the animal from doing well in a breeding program.
Show quality: This means the animal has no disqualifications or major faults that would prevent the animal from being shown. We will sell animals that should perform well in shows, and the higher prices for those animals will correspond to that higher show quality. Animals can start out as nice show quality animals, and mature to lesser quality, and visa versa. There is no guarantee that an animal will perform well in shows, since that depends on how the animal matures, the care and conditioning it is given and the competition it encounters, among other genetic and environmental factors.
Retirees: This means an animal has produced enough litters and it is time for them to provide pet companionship only, or they failed to produce litters and thus are retired from the breeding program, or they have developed faults or disqualifications as they matured that shouldn't be bred into a breeding program. We do not provide pedigrees on retired animals.